After verifying your email, you will be required to complete the Admission form. It is crucial to carefully and accurately fill out this form, as it forms the basis of your entire application. Please follow the provided guidelines to ensure that the form is completed properly. Make sure also to fill out the form in the English language.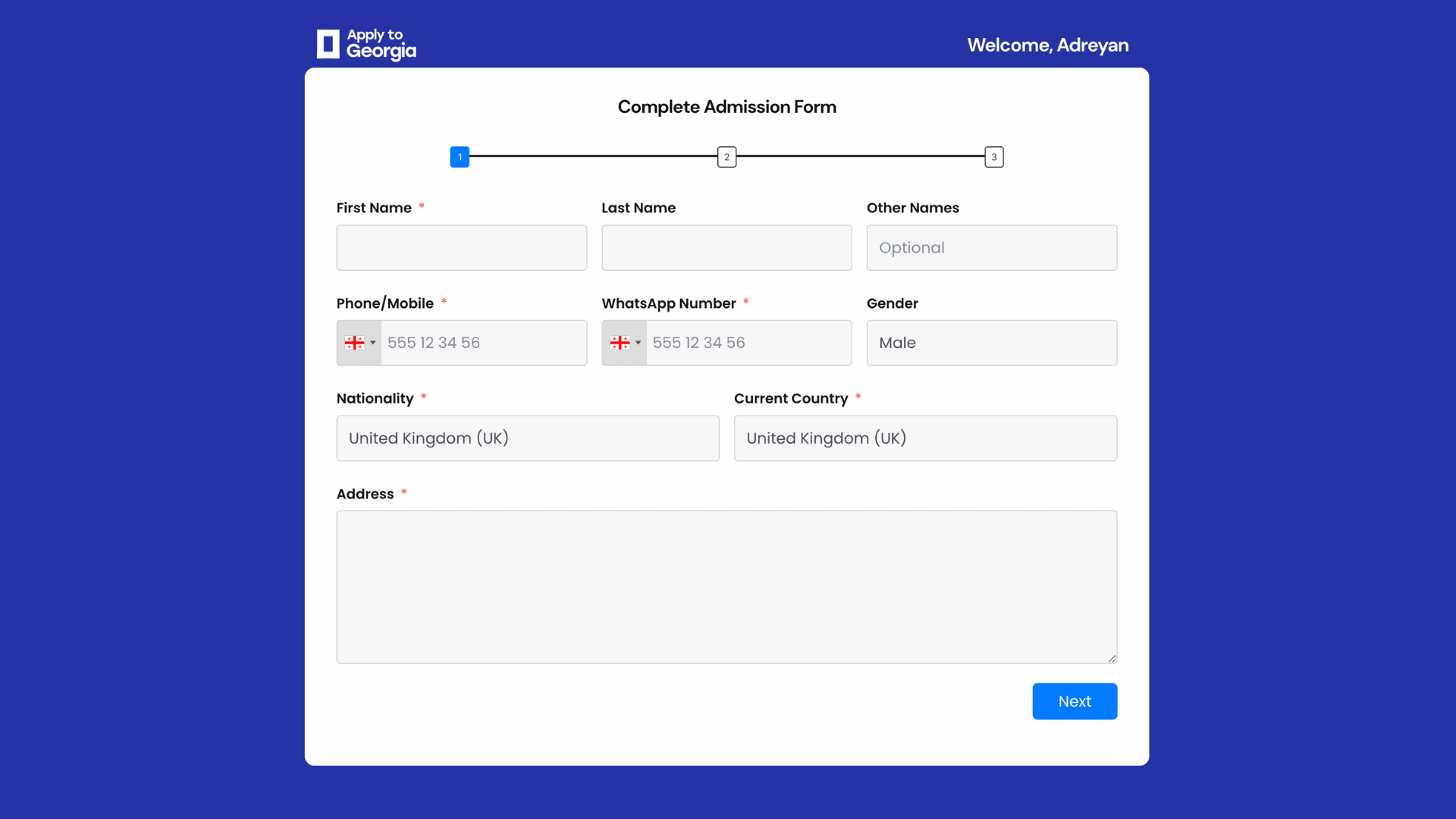 Enter the applicant's first and last name as they appear on their International Passport. If the applicant has a middle name, please enter it under "Other names." If the applicant does not have a middle name, leave this field blank.
The phone number field is required. Select your country flag to display your country code and enter your phone number. We use WhatsApp for various communication forms, so it is important to ensure that you enter the correct WhatsApp number. Select the applicant's gender as it is listed in the International Passport.
Under the "Nationality" field, please select your citizenship or the country where you were born. The "Current country" field is for the country where you are currently located. Then enter the current address of your location.
On a scale of 100%, how ready are you to start? You have four options to choose from: Very ready (100%), I think I am ready (70%), Not sure (50%), or Not ready at all. Your application will be considered based on the option you select.
Select Yes or No in the "Do you have an International Passport" field. Keep in mind that an International Passport is required for full enrollment.
Please select Yes or No in the "Do you have an active foreign residence card or visa" field and select the corresponding country from the list. You can leave the field blank if your country is not listed or select Other.
It is important to know who is submitting the application. If you are the representative, guardian, or parent of the applicant, please ensure that you provide accurate information about the student, then proceed to select the desired University, desired level, and program.
The admission fee is $100. You have the option to pay immediately or pay later. Please note that paying immediately may give your application an advantage as it will be processed faster than others.
Join the next academic semester. Create an account and submit your application for review. Contact us if you encounter any issues along the way.
Contacts
Let's Chat on
WhatsApp
Email
help@applytogeorgia.com
Address
39 Zhiuli Shartava street
Tbilisi 0160
Georgia